How one woman paved the way for millions of women in India
The Marathi movie Anandi Gopal hit theatres last Friday. A movie that has received only applause for its depiction of the life of Dr.Anandibai Gopal Joshi. The first Indian woman to become an MD in western medicine in the 19th century.
Her journey was of course not easy, it is safe to say, it was harder than we can possibly imagine.
The movie begins in the year 1875 and that date itself gave me goosebumps. Indian society 144 years ago was unrecognisable. The people, the ideologies, the thoughts, the beliefs, the customs and etiquette is something today's urban Indian will never be able to relate to.
It suddenly dawned on me that my life has been shaped by these women who faced the atrocities on my behalf. They have given me the opportunity to study not one but four languages, to go to school, play with my friends, read books I want to read, have my own thoughts, write this blog and sit side by side with my male colleagues to debate and think about my future career prospects.
144 years ago, these privileges weren't only unimaginable but also blasphemous. Women studying!? That would give them their own thoughts, the ability to write letters to other men, enough intelligence to run away and heaven forbid make them independent!
A woman's life was to be by her husband's side, an invisible figure that would manage the home and remain hidden from the society. She never knew how to read. The women would never be allowed to leave the kitchen and the home without assistance.
Anandibai's story begins not in today's India but in this India that existed 144 years ago.
On the 31st of March in 1865, a girl was born to Gunpatrao Amritaswar Joshi and Gungabai Durgabai Joshi. She was the 6th of 10 siblings. Her birth was not significant, she was after all a girl child.
11 days later they named this girl Yamuna.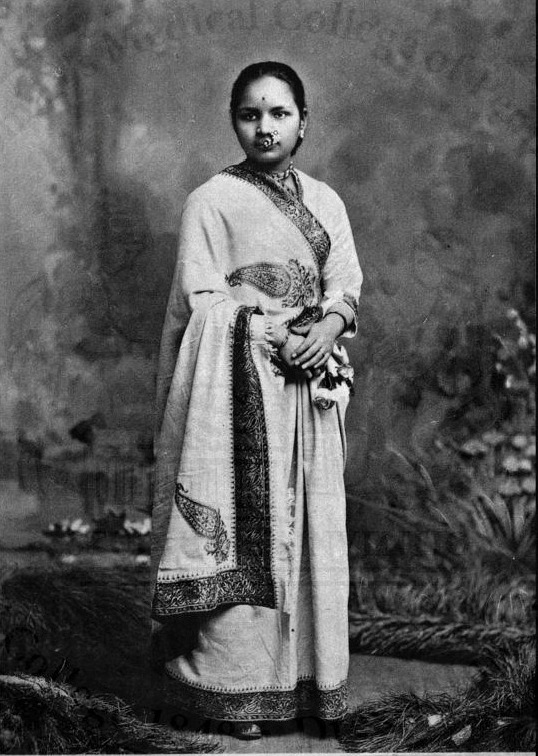 Gunpatrao Joshi was very fond of his daughter. She would spend every evening with him asking him endless questions. It was this fondness that had Joshi teach his daughter some basic Marathi alphabets.
Yamuna's mother though was against this. She thought a girl's place was in the kitchen. Who would marry Yamuna if she couldn't cook? Would reading run the household?
According to the book Life of Dr.Anandibai Joshee: a Kinswoman of the Pundita written by the American author Mrs. Caroline Healey Dall, Gopalrao Joshee came to Gunpatrao's residence as a person seeking friends. Gopalrao had just been transferred to the Kalyan Post office. He came to the Joshee household to find acquaintances, especially those that bore the same surname.
This book goes on to explain that at this time, Gopalrao began teaching Yamuna, aged 5 years old, a few Sanskrit words.
In my opinion this might not be true.
In fact other records suggest Gopalrao to be a bit whimsical who, a widower himself wanted to marry a widow. Widow remarriage was still a new concept in India.
When Yamuna was aged 9 and Gopalrao twenty years her senior, her family asked the Post Office clerk if he would take their daughter's hand in marriage. Such child marriage was the norm in Indian society at the time.
Yamuna's family had fallen on hard times even though they were rich landlords once. A postal clerk had a stable government job.
Initially Gopalrao was reluctant and then asked the family if Yamuna could read and write! That was unheard of. Gopalrao was adamant and then agreed to the marriage on one condition, that he would teach his young wife to read and write.
As per the Hindu traditions, it was customary for the husband to give a new name to his bride. Thus Yamuna now became Anandibai Gopal Joshi.
It is said that Anandibai carried with her a few idols of God from her own home, delicate ornaments, cashmere shawls and some heirlooms.
When Gopalrao was transferred to Alibaug (just South of Bombay), the two set up their home there. Alibaug was as it is now, a coastal village. Back then it was a sleepy town.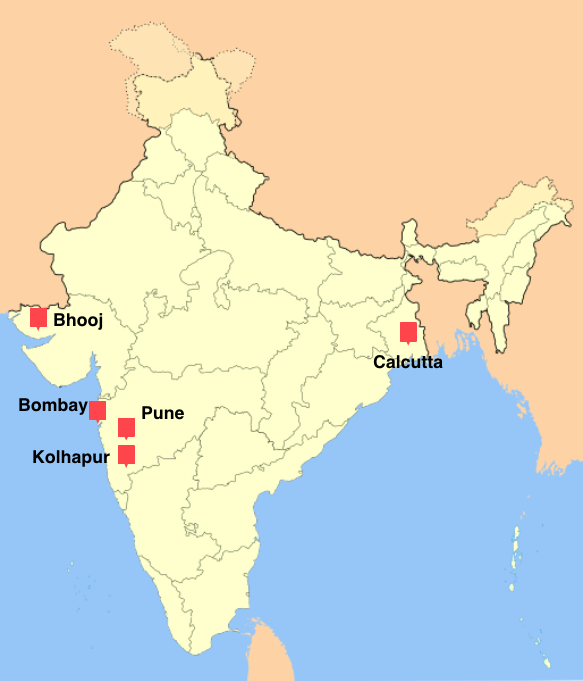 Anandibai's education began as soon as they settled in Alibaug.
However Gopalrao's job as a governmental postal clerk was prone to frequent transfers. From Alibaug they travelled to Kolhapur.
By this time, Anandibai was well read in Marathi and now had taken up English literature. Her husband though was not a light hearted teacher.
Apparently he would fly into wild rages and throw books and chairs at his young wife. Once when he found out she had spent the day in the kitchen cooking, his anger knew no bounds. Generally it made a husband angry when the wife hadn't cooked the meals but Gopalrao had a single aim, to educate Anandibai.
Aged 14, Anandibai fell pregnant. It is truly shocking for our times but it wasn't an anomaly for the 19th century. This pregnancy would be a turning point in her life.
Anandibai gave birth to a young boy, everyone in the household was joyous. The mother and the child were both fine. Soon these happy days turned dark. Within a week, the child fell ill. In 10 days, the infant was no more.
It was a massive shock for Anandibai who a child herself, had lost a child of her own.
She decided the reason for her child's demise was the lack of medical attention she received during her pregnancy, delivery and the post-delivery care needed for a new born child.
One day she approached her husband and informed him something radical: she wanted to be a doctor and help other Indian women.
In the 1800s, it was impossible for women to seek medical help from a male doctor. The Indian doctors refused to touch ladies for testing them as a patient and the western doctors were out of question. In such a state, how could the female and child mortality rates improve?
As for Gopalrao Joshi, he had made plans to educate his wife never about educating her to be a professional doctor. Despite the narrow minded era he came from, Gopalrao supported Anandibai's decision wholeheartedly.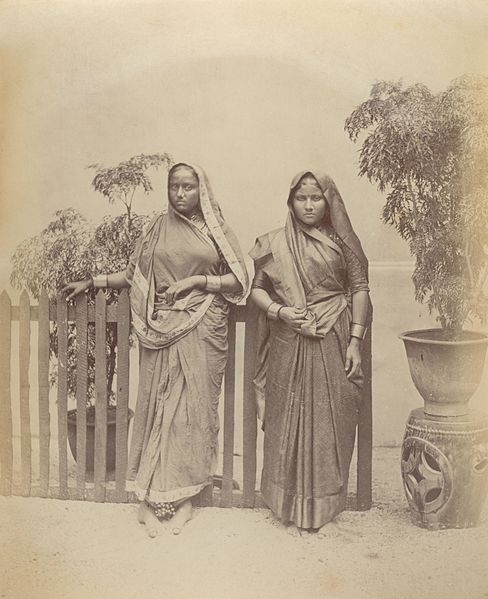 From Kolhapur he wrote a letter to the Presbyterian missionaries telling them how he was a supporter of women's education. He stated he was willing to live in America while his wife studied in University there.
This letter of his was read by a Dr.Wilder who demanded that his plea to migrate to America would be accepted if he and his wife were to convert to Christianity.
Gopalrao was willing to convert but it was Anandibai who refused saying that a country who couldn't accept her for who she was, was a country she would not travel to.
As for Dr.Wilder, it was unimaginable that a Hindu would set foot on American soil.
The common opinion then was that Hindus from India were inferior, less intelligent, fickle and dishonest. This common opinion can be sensed through the various records published during this time.
It is very ironic that the country that calls itself the 'Free land' could be so prejudiced.
Giving up hopes, the Joshis moved to Bombay and Gopalrao admitted Anandibai in a missionary school.
In her many letters, Anandibai recalls what it was like going to school. She would wear her sari with school shoes and stockings. Dressed like this, decked up in the jewellery worn by married women and carrying books in her hands, she would go to school.
People didn't take it very well. They were outraged. They would peek outside their windows, pass offensive comments, bystanders would throw pebbles at her and others would stop their carriages and gawk. This might have been enough to discourage a frail heart but not Anandibai.
In school , her teacher Miss Robson was adamant that Anandibai must read the Bible. Miss Robson gave her an ultimatum, read the Bible or leave the school. Anandibai chose to leave but Gopalrao didn't allow her to do so. "Nothing happens if you read the Bible" he told her and sent her back. This continued for a year.
One of her letters tells us that Miss Robson's school was later shut down since she forced her pupils to read the Bible a few years later!
As for Gopalrao's correspondence with the Missionaries and his rejection to convert, made Dr.Wilder use the influence of his magazine to give a befitting response.
Dr.Wilder went on to publish Gopalrao's letter in his 'Missionary Review' at Princeton. It was his idea to reply to this letter rebuking Gopalrao's claims that made the key difference.
What was meant as a negative response turned to be good news.
A Mrs.Carpenter was in the waiting room to visit her dentist when she read the letter written by Gopalrao. She was fascinated by this young Indian woman who despite the oddities had created a name of herself in the society. After much deliberation, the American woman sent a letter to Anandibai Joshi offering to shelter Anandibai while she was in America for her future studies.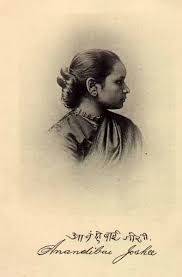 This letter was posted to the Joshis Kolhapur address. Unfortunately, Gopalrao's job had taken them from Kolhapur to Bombay and now to Bhooj in Kutch, Gujurat.
Bhooj was not a very developed place in 1878 with a high rate of female infanticide and a poor female to male ratio.
When finally Mrs.Carpenter received Anandibai's current address, there began a rich correspondence between the Indian and American ladies. Anandibai called Mrs.Carpenter 'Maushi' meaning mother's sister.
About the correspondence, Mrs.Carpenter said, "Then began for me a regular course of education in Hindu manners, customs, religious rights." She also goes on to say that Anandibai had a "remarkable mastery of English."
The two women spoke about Indian customs, for example Anandibai explained Indian traditions such as the Thread ceremony, the New Year and the Tilgul that is prepared during solstice. Anandibai also sent Mrs.Carpenter the recipe for making Tilgul and as custom is, wrote, "Eat the Tilgul and be nice to me the entire year!"
Anandibai often asked Mrs.Carpenter questions about America, the people, the costs of living there and much more.
Her letters were also what we might consider feminist and give us a peak into her personality. She spoke about how priests have spoilt religion and about secularism all at a young age of 17.
"How arbitrary would it be if I were to say that all you believed was nonsense, and all I believed was just and proper!"

-About Religious Supremacy
In a letter aged 18, Anandibai writes that a woman must be independent as we are all mortals. A husband and a wife can always be parted. Saying this, she said she was ready to travel alone to America. Her husband had his mother and siblings to look after.
"When I think over the sufferings of women in India in all ages, I am impatient to see Western light dawn as the harbinger of emancipation. I am not able to say what I think, but no man or woman should depend upon another for maintenance and necessaries. Family discord and social degradation will never end till each depends upon herself."
By this time, the Joshis lived in Calcutta where they were less than welcomed.
They were foreigners here.
Other local women didn't speak to Anandibai. They looked down upon her since she didn't cover her face with a veil and spoke to her husband in public.
Marathi women like Anandibai never covered their faces and it was acceptable for a woman to speak to her husband.
This orthodox zenana system and the non-vegetarian diet all led to the Joshis having a terrible time in Calcutta. (The Joshis were vegetarian)
Due to an issue with some important letters, Gopalrao also lost his job.
It was then that they made plans to travel to Hong Kong, Japan and finally to America. However these plans never bore fruit.
Despite her experienced hand in English, Anandibai couldn't speak the language. She began to learn to speak English now. By the end of her life, Anandibai had learnt seven languages!
Things changed for the better. The society accepted Anandibai and a Marathi couple adopted her as their own child.
Although Anandibai fell sick from 1880 to 1881, she was treated by Mrs.Carpenter's lady friend who was a doctor in India.
Finally in 1882 it was decided. Anandibai would be travelling for America alone.
Once again society turned against her, so did her family except for Gopalrao.
He secured permission to deliver a lecture in the College Hall in Calcutta. Instead of him, it was Anandibai who spoke upon her insistence.
It was the first time a woman had addressed such a large committee. Her speech delivered without any preparatory notes is very interesting. She speaks about taboo topics that we still don't address. She also quoted a few Sanskrit shlokas.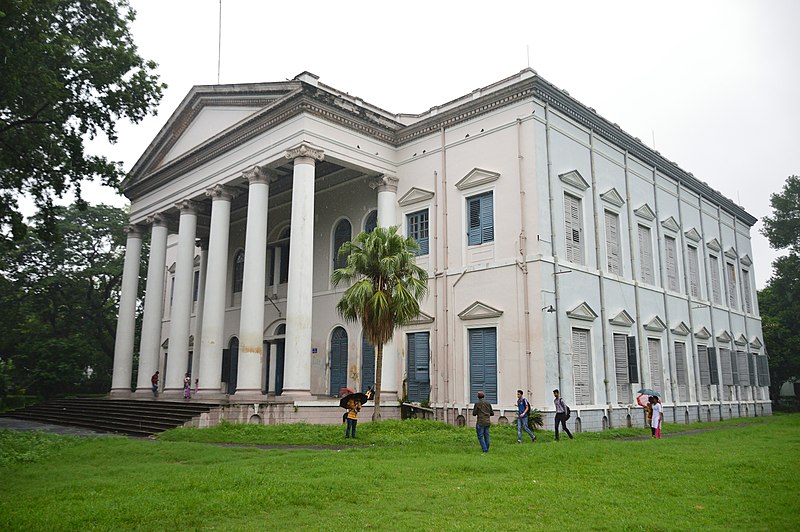 Her speech contained topics like the male ego that holds women back, the need for Indian female doctors for women in India where female European doctors fell short, her decision to travel alone to America and her fearlessness at the threat of being excommunicated on her return.
'I will go as a Hindu and come back as a Hindu'
Her bold moves and this speech got her many congratulatory wishes from Indians and Europeans alike.
Mr. HEM James, Director General of the Post Offices of India gave her Rs.100 and wished her his best.
The national freedom fighter Lokmanya Tilak gave her another Rs.100 even though he had little money himself.
With the aid of the Thorburns who helped her plan her route, on the 7th of April with a group of ladies who were complete strangers, Anandibai Joshi set sail for America.
The 18 year old reached New York on the 4th of June. Here she was welcomed by the Carpenters.
It took a while for Anandibai to adjust in America but she soon became a favourite.
The Americans had expected her to be a primitive native girl but they were met by an intelligent, bright and dignified woman who spoke fluent english and wore her traditional Indian dress.
Anandibai joined the Women's Medical College of Pennsylvania on the 3rd of October 1883.
The Dean Dr.Rachel Bodley took Anandibai under her wing. Through the many bouts of illness, Dr.Bodley nursed her student diligently.
It was the most difficult to sustain during the cold winter months.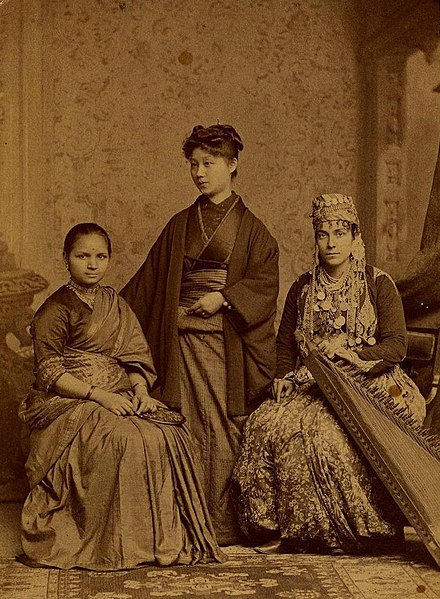 Anandibai's cotton sari was not at all helpful. At this time, Anandibai wore a longer thicker flannel under a cotton suit, a flannel skirt, one to two white petticoats, a dress with a plain waist, coat sleeves and a long skirt, and finally over all this, a sari.
In the final and third year of her studies, Anandibai barely wrote her exam. She hadn't slept well that night and had to go through a tedious five hour long exam. In one of her letters, she says she could hardly see of she had written the last sentence in her exam!
However Anandibai wasn't faint hearted. During the course of her studies she is said to have seen post mortem dissections including those of infants when others couldn't. She was absolutely determined.
Anandibai completed her thesis despite her sickness of diphtheria. Her thesis was based on 'Obstetrics among the Aryan Hindoos'. It was the largest one in her class, 50 pages long to be exact.
Finally on the 8th of March 1886 Anandibai passed her exams and got the certificate she had spent her life struggling for. Gopalrao had also come to America at this time. He was surely joyous and proud of his wife's success.
During the convocation it was proclaimed that Anandibai was the first female doctor from her country. It was indeed a proud moment.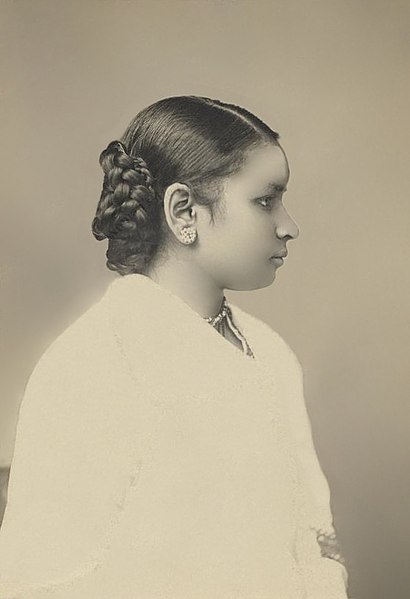 Anandibai's health was deteriorating. 15 to 16 hours of work was not suiting her well.
After a brief internship at New England Hospital, in 1886 she returned to India.
Some accounts suggest that a doctor asked Gopalrao Joshi to return to India with his wife. During their journey, no doctor was willing to treat a brown woman and when they returned to India, Indian Ayurvedic doctors weren't willing to treat an 'unholy' woman who had travelled abroad.
Anandibai was sick with Tuberculosis, a disease that was not treatable in 1887. Her days were numbered.
The Joshis however did go through a cleansing ceremony that was customary of those people who had crossed the Indus River according to the Hindu religion.
Anandibai was given a position at the Albert Edward Hospital in Kolhapur when her Dean Dr. Bodley wrote to the hospital. She was made the head of the hospital with only a Doctor Durbar supervising her.
However Gopalrao knew as well as Anandibai that it was all coming to an end.
On the midnight of 26th February, 1887 Anandibai breath her last. She was only 21 years and 11 months old.
Was it a life of tragedy then? A life where the struggle had gone to waste?
I think not. I believe her short life was not tragic but successful. She took the major step towards emancipating the women of India. She broke the rules that had held women back for thousands of years. And she paved the way for millions of female graduates that dream of seeking an education abroad today. Her life was not in vain, it was a life that teaches us how little we have achieved as compared to this young life that continues to live on through every girl child who seeks an education in India today.
If you liked this, you might also like to read
The Immortal Poshak of India: The Saree
Razia Sultan: India's Most Underrated Ruler
If you liked 'A Life Well Lived: Anandibai Joshi' please share it with your friends:)