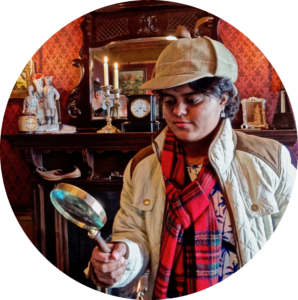 Hi I am Shanaya Wagh 
….and I am not a History student but I edit this History Heritage Travel Blog
I love history as a hobby, especially when I get to visit some really exciting places or monuments from the past. If not those, then I make do with museums. There is something about the old artefacts and the people who must have used them that attracts my curiosity. It is only a growling stomach that can drag me out of a museum.
Chhatrapati Shivaji Maharaj was probably what got me hooked to history. His history is still my favourite.
Writing, editing and managing GiGlee Magazine's social media profiles is what I do when I have time (apart form reading and watching movies). The rest of the time I am supposed to bury myself in textbooks 😜
GiGlee Magazine is a History Heritage Travel Blog with interesting snippets of history for you
If you believe history is a textbook full of dates and wars, hold your horses…
History is spiffing!
On this blog you are bound to encounter astonishing top hole stories about historic places you must visit, history books and videos to binge on, random jaw dropping stories and a plethora of really courageous (sometimes forgotten) women in history.
Hop on, fasten your seat belt and explore different stories from the past
Stay in touch via email and get your Free Vintage Car Photo Collection here.
I tweet @GiGlee_Magazine
Wait for your likes GiGlee Magazine
And have a tophole Instagram @giglee_magazine 
Waiting to see more of you….