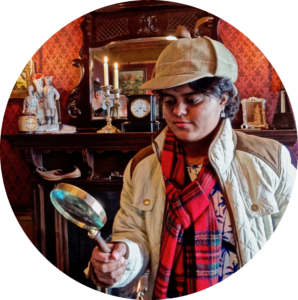 Hi I am Shanaya Wagh 
….and I am not a History student but I edit this History Heritage Travel Blog
I love history as a hobby, especially when I get to visit some really exciting places or monuments from the past. If not those, then I make do with museums. There is something about the old artefacts and the people who must have used them that attracts my curiosity. It is only a growling stomach that can drag me out of a museum.
Chhatrapati Shivaji Maharaj was probably what got me hooked to history. His history is still my favourite.
Writing, editing and managing GiGlee Magazine's social media profiles is what I do when I have time (apart form reading and watching movies). The rest of the time I am supposed to bury myself in textbooks 😜
GiGlee Magazine is a Heritage Travel Blog with interesting snippets of history for you
Castles, old churches and historic monuments are the most interesting things to explore and read about, don't you think so to? Heritage with its dark dangerous stories, of the bloody battles, hidden secrets and royal life is a fascinating adventure in itself. You can explore these stories with me here at GiGlee Magazine.
Check out the posts and keep that intrigue alive.
You can read the weekly articles I publish each Friday here:
http://giglee.in/posts/
Or hunt me down on Instagram, the other of my social media channels:
https://www.instagram.com/giglee_magazine/
You can download Your Free 2019 Calendar here.
Have a Good Day!