The Cartoon On The Amul Butter Advertisement has Captured India's Heart for Decades
The Story of how Amul created India's Butter Girl
Amul, the Taste Of India brought us Asli Butter.
Amul Butter is synonymous with butter back home in India. And Amul is India's leading Food company, undoubtedly voted the best. It is also the company who owns the Butter Girl of India.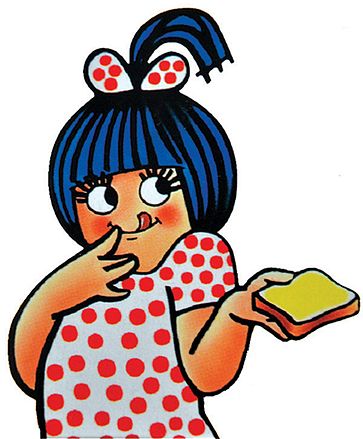 This Polka dotted mischievous young girl has her own story to tell. She is one of the most successful advertisement campaigns ever run. She has changed the face of butter in the Indian market. Furthermore, the Amul Girl is also the longest running advertising campaign in the world too.
How old is this young vivacious girl?
Back in 1966, Polson industries (Gujarat based) had a monopoly in the diary products industry. But the farmers weren't too pleased with Polson.
This is where Amul came into picture and with Amul came its blue haired girl.
The Polka dotted Amul mascot was made as a rival to the Polson girl. The Polson girl was known to be too flashy, something most Indian households didn't associate with although Polson was ruling the dairy product market. Amul had to beat Polson to establish themselves in a monopolistic industry.
When ASP, an advertising company got the reigns for Amul's advertising portfolio, they rose to the challenge to get Amul Butter to the top.
They created an Amul girl, like Polson had theirs but there was a huge difference between the two. When the Polson girl was outlandish in her advertisements, Amul's girl was the heart of every Indian.
She was young, easy to draw and free spirited- a perfect fit for an Indian homemaker's heart. This Amul Girl was the brain child of Sylvester DaCunha of ASP. To make her more appealing, Dr. Kurien the then Chairperson of Amul, suggested making her mischievous.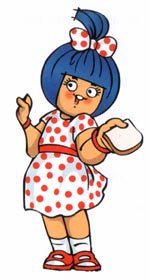 That naughty spark in her eyes, her simplicity didn't only capture homemakers but also the entire Indian public.
She had to be easy to draw since most hoardings were hand painted half a century ago. But it was all worth it.
India reacted with wonder to Amul's mascot. At that point in time the Amul Girl advertisements didn't comment on news like today. The girl merely smiled back at you from the hoarding.
In 1967, a year after she made her way into Indian households, ASP decided to make her bold like the upcoming Indian youth.
Without holding back views, Amul butter advertisements began commenting on the Indian scenarios and news.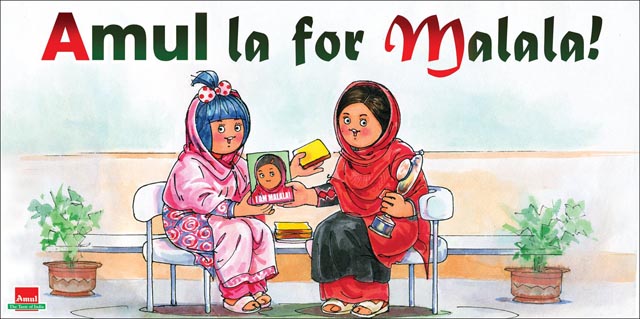 When Air India decided to wage a strike, the Amul girl commented on it. When Ganpati Bappa came home, she welcomed him. Soon, she became a phenomenon.
According to a post on Amul's website, her first advertisement in Mumbai was somewhere along Charni Road. People literally gathered near the billboard to inspect it and laud it.
The Amul Girl's boldness did cost her a few controversies. Air India threatened Amul to stop supplying its butter on their planes and Shiv Sena had a slight problem with the Amul girl welcoming our favourite Bappa.
Despite all that, the Amul girl still continues her reign in our hearts. Everyone takes time to read an Amul hoarding and smile. It is very relevant and humorous. How can someone miss them? Moreover, Amul advertisements are simple, as if they might be painted. They aren't digitally modified to make them look classy.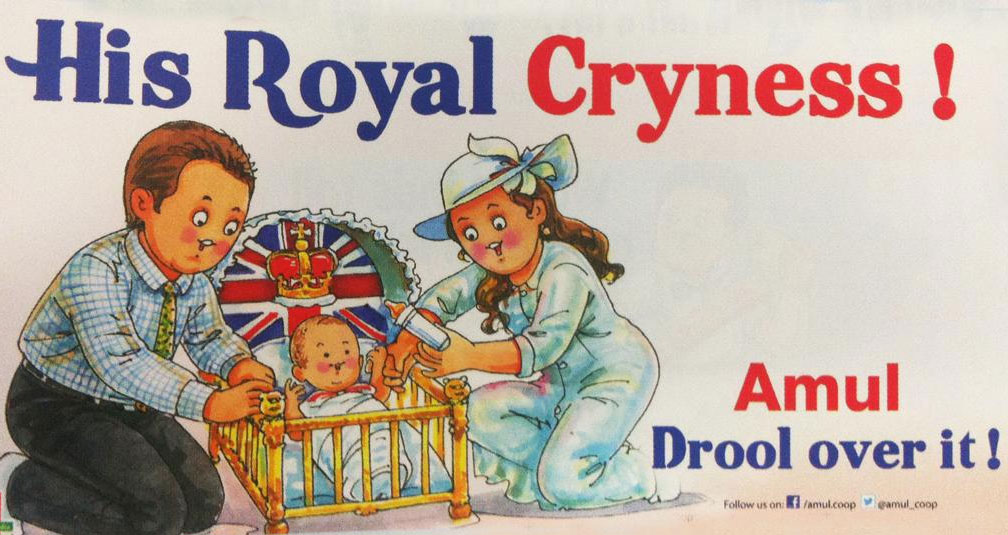 The irony rests here that the Amul Butter advertisements have a vintage effect like that of a painting yet are so very updated with their captions. Anyone and everyone enjoys them. Amul changes the theme every week and yet the Amul girl remains the same. Stuck in time for a 50 years and more to come, a story teller of India's every news article- it's the Indian polka dotted blue haired mischievous girl.
She is not just Amul's anymore but India's legacy. Her comments and billboards are a part of a collection gallery. If all of her advertisements were to be collected and placed in a chronological order, it'll definitely tell the story of  post- Independence modern India.
Just like this quote here-
There are stories about the butter that people like to relate over cups of tea. "For over 10 years I have been collecting Amul ads. I especially like the ads on the backs of the butter packets," says Mrs. Sumona Varma. What does she do with these ads? "I have made an album of them to amuse my grandchildren," she laughs. "They are almost part of our culture, aren't they? My grandchildren are already beginning to realise that these ads are not just a source of amusement. They make them aware of what is happening around them."
What are your views about the Amul Girl? Do you have any fond memories associated with her? Comment below to share them with me, I'd like to know.
And of course, bring a smile on someone's face today, share this memorable article
———————————-
Join Us As We Share More Such Incredible Stories
Here are a few more-
How Instant Coffee Was Invented
———————————
Picture Curtesy- Google Images