Homi Bhabha and Modern Art
A man who played a soothing rhythm of science and art
Every science touches art at some points—every art has its scientific side; the worst man of science is he who is never an artist, and the worst artist is he who is never a man of science.
-Armand Trousseau
Despite this metaphoric description of how art and science blend together like bread and butter, today's education system holds these two apart like chalk and cheese. It is pointed out time and again that those who master in science cannot excel at art and vice versa.
Owing to this prejudice set in stone in our minds, we were a bit skeptical while making our way towards the Tata Institute of Fundamental Research for an art walk.
The TIFR is a famous institute governed under the Central Government of India which primarily encourages education and research in physics and mathematics.
What art could they possibly possess?
Getting There
It wasn't art that first made us gawk, it was probably the approach to the premise. TIFR sits almost at the southern tip of Bombay, at Navy Nagar's cantonment area. This area seems a far cry from the noisy dug up, pothole filled roads of Mumbai.
Heavily armed army-men maintain a vigil at the beginning of every road. The roads are like avenues with trees crisscrossing overhead. And somewhere in those many lanes at the edge of mainland right next to the sea, sits the TIFR campus.
The view reminds you of a place as far away from Mumbai as can be. A huge tree sits near the entrance, a sign of welcome to the every expanding thirst for knowledge. This tree looks regal especially with its foliage shed around it, forming a bed of flowers.
It was with some awe that we took in these sites. The sea was almost within our reach. The rough monsoon waves splashing on the TIFR's private promenade.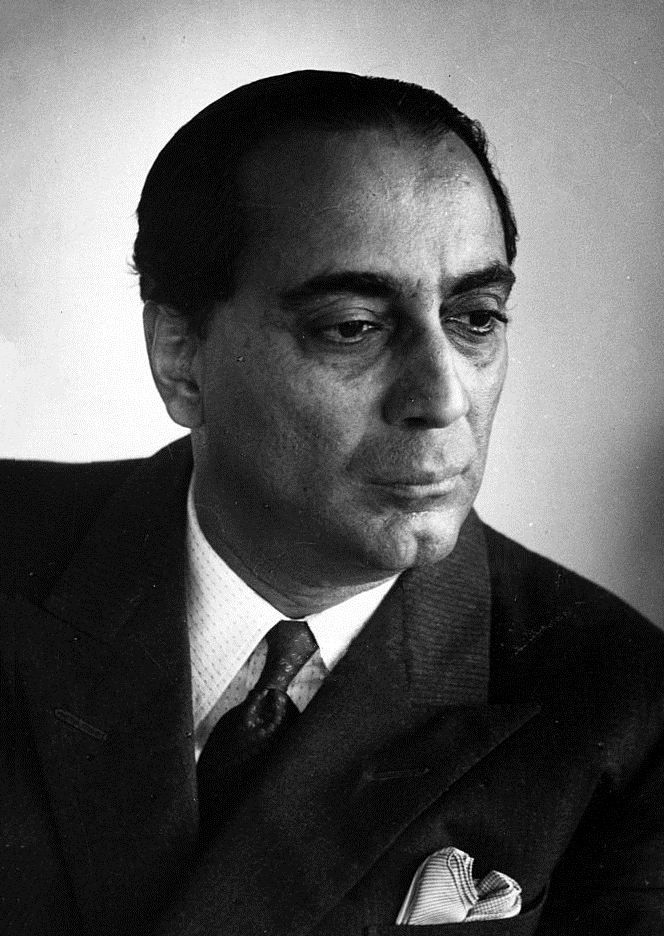 Bhavya was our guide for the day and bearer of jaw-dropping information.
She answered the most pressing question we all had-
What 'art' does TIFR have?
Bhavya explained how she works as an archivist at TIFR. This means that there is so much art in TIFR that they need an archivist to maintain all the artworks year around!
Bhavya told us that art isn't just a showpiece but an integral part of this institution. Every member here feels connected to the many frames that loiter across the corridors. So during monsoon there is often a distress call from a member asking after a painting's safety due to a leak in the wall.
The birth of such a culture, one with such a close attachment to art, was born along with this institution.
The dream of building an institution for fundamental research in science was Homi Bhabha's. He was the father of nuclear programme in India. A well renowned scientist even today.
Bhabha was educated abroad during the time when India was on the brink of independence. When on a holiday here in 1940s, he decided to stay back since the western world was busy with war.
He harboured a single mission in his mind, to make the newly liberal India self-sufficient in the field of science.
The Birth of TIFR
Bhabha was himself well established in his sector and reached out to his equally famous Indian counterparts. Some famous names include Obaid Siddiqi and CV Raman.
After talking things through with Jawaharlal Nehru whom he addressed with affection as 'bhai' (brother) and with JRD Tata, TIFR was born.
Bhabha was like a choreographer behind the show. He took it upon himself to design the lovely campus of TIFR including a cross shaped patch of garden dubbed 'amoeba garden'.
It was his own vision of adding pieces of modern art that imbibed this rather unusual culture into TIFR's DNA.
Homi Bhabha's Unique Talent
As surprising as it may sound, Homi Bhabha himself was a student of art. He loved to paint and excelled at it.
Some of his portraits are available on the internet and make you wonder; was this done by an artist or a scientist?
Homi Bhabha in the 1950s began collecting the new fashion of modern art which is often abstract in character.
He had a good eye for painting too.
This venture of his landed TIFR some inexpensive artworks by famous Indian and foreign modern artists.
Today TIFR houses original works of artists whose paintings sell in the market for crores of rupees. And as luck would have it, some of these pieces of art haven't been bought but gifted by these very same artists to this institution.
————————–
Enjoying 'Homi Bhabha and Modern Art'?
You may also like to read about The Bombay Blood Group
————————–
A Mural Competition
In 1962, Bhabha decided to arrange for a mural competition. He wrote to several eminent artists all across India. In the end, Bhabha secured eight compelling entries.
This competition wasn't just arranged for the sake of entertainment. A proper committee was set up to judge these eight works.
Seven out of these eight artworks were pertaining to science, as was the essence of TIFR. All these eight entries survive to date, decorating the various corridors of the campus.
The mural which ultimately won, was the one which had no relevance to science whatsoever. The title of this work was Bharat Bhagya Vidhata. As you enter the TIFR building today, this bright, lively mural welcomes you. Rajasthan in all its splendour and glory talk about the entire India as the vibrant nation it is.
The painter who created this mural was the only non-scientist resident to ever live on campus. It is often said that for a painting that would have taken just two months, it took much more since this artist loved the premise and didn't want to leave!
Who was this artist?
Why it was MF Hussain of course!
However why abstract art?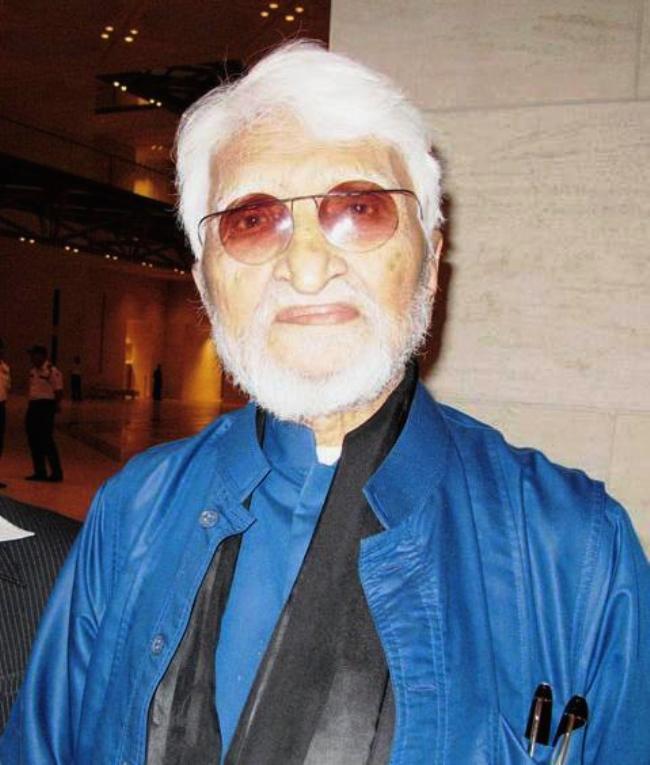 Have you ever wondered the significance of abstract art?
I hadn't either.
Ms Bhavya told us about abstract art. She pointed out something I hadn't thought of. She told us that abstract art, with random strokes of the paintbrush, disfigured humans and sketches is a form a rebellion.
Abstract art finds its seed in the 1950s and 1960s for India. 1950s is just after the end of World War 2; a time in this world when everyone was exploring the sweet taste of freedom and humanity.
As individual thought was encouraged, abstract art became the best medium to express it all; liberty, freedom of expression and individualism.
What's more surprising is that most these abstract artists don't convey the meaning behind a painting in a document, they leave it to the viewer to interpret. The thoughts and emotions that run behind a painting are lost to time.
With time, the perspective with which we perceive these emotions to be, is also evolving. It is a challenge for us to throw our minds open and interpret what we believe the artwork says.
Abstract paintings at the first glance may looks silly but in a time where perfection in art was the norm, an antonym to that was a silent retaliation, expressed in a time where people had been subdued for years either by the Nazis or by colonial rule.
————————–
Enjoying 'Homi Bhabha and Modern Art'?
You may also like to read about The Discovery of Instant Coffee
————————–
Abstract art is a new installation in the long history of liberalisation of artwork. Before the renaissance, art was limited to a certain social class. It was freed from its aristocratic clutches and it gave us the Mona Lisa and the Les Nympheas.
And today, as we step into the world of digital paintings, we break the boundary of dimensions and colours.
However the era of abstract art is not lost upon us. In this structured world, it provides us an avenue to let our imagination run free. Keeping the story behind abstract art in mind, it is easier to see an abstract artwork and let it do the talking right to your heart.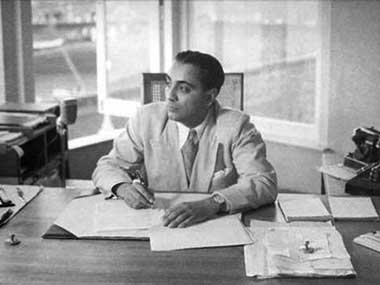 Recommendation-
If you ever get the opportunity to visit TIFR please do. Besides the campus, the stunning sea and the art, the study table of Homi Bhabha is on display here. And what a treasure it is! It is as long as your room and absolutely stunning!
Did you enjoy reading 'Homi Bhabha and Modern Art'? Then share it with your friends too!
#DYK Homi Bhabha was an Artist? His dream- the TIFR is as connected to art as us humans to oxygen. http://giglee.in/homi-bhabha-and-modern-art
Click To Tweet