My Last Visit to the Strand Book Store
This locally adored bookshop is shutting its doors for the last time on 28th February
Ever since I heard that the Strand Book Store is shutting down, I wanted to visit it. I had heard much about this bookshop but I had never been there.
It was a famous destination for prominent men as well as the Aam Aadmi. Frequented by the young and old alike.
Since it was located around the RBI headquarters and the main industrial area of Bombay, most office-goers would flock here to take a book or two for their journey home. 
Reading the news articles and people's memories today about this place, I got the sense of what the Strand Book Store meant to people who often visited it. It was not the books that specifically attracted them, but the amiable owner Mr. Shanbaug.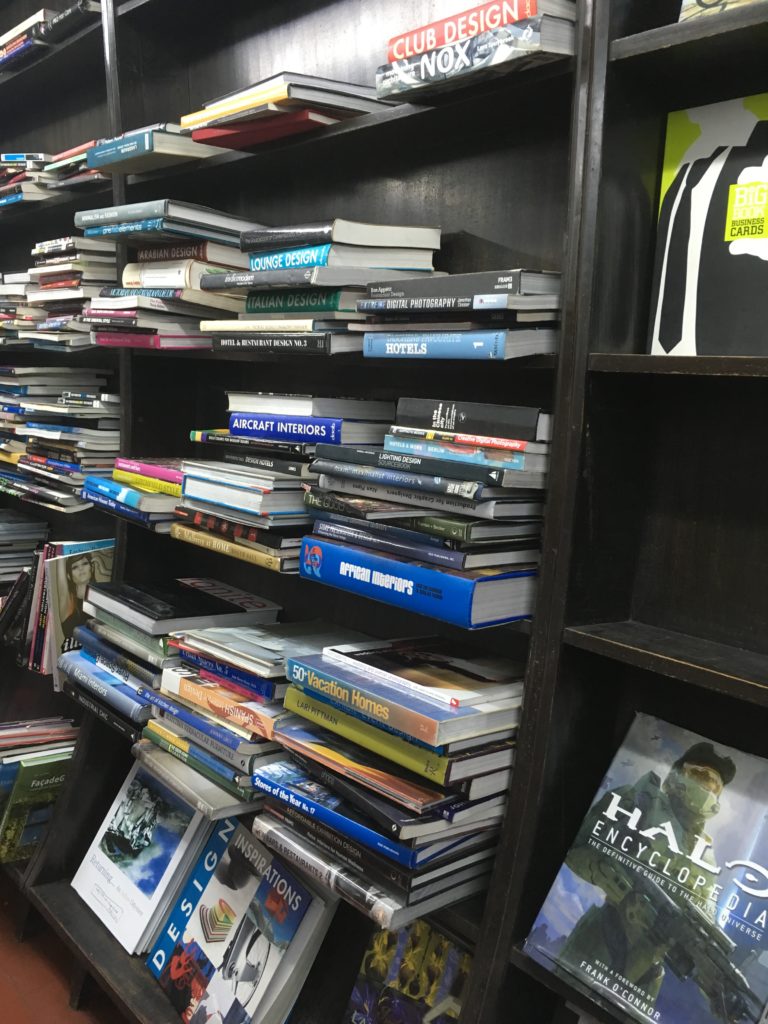 People have recollected how they would visit the Strand bookstore to redeem a coupon they won from school as a merit holder. Mr. Shanbaug's own daughter recollects how the bookstore helped her meet friends and fall in love with books.
Today as I visited this store, I could see the legacy Mr. Shanbaug has created. He is no longer here to see this beloved bookstore close down but he is very much present in the scores of people that fill this small bookstore.
Stepping in, I was shocked to see people piling up as many books as they can in their hands. No one was interested to talk or look around, it was a literal book hunting mania in there! And when I thought the bookstore was crowded, I never expected it to fill further!
I too was lost in the scores of books. Unfortunately they didn't have any history genre books left in  their diminishing stock. They had plenty of art, architecture, fashion and cookbooks though, none that fascinated me much.
The book store also has a first floor which can be accessed using a set of old wooden stairs, it would be wrong of me to call those stairs, it is more of a ladder.
Upstairs the crowd was a little less maddening. The air conditioning was doing its magic and keeping the room cool.
By the time I was done, after an hour or so, I descended down to see……crowd. A LOT of crowd. It was like a jam packed BEST bus during rush hour. The poor air conditioner was failing miserably at its job.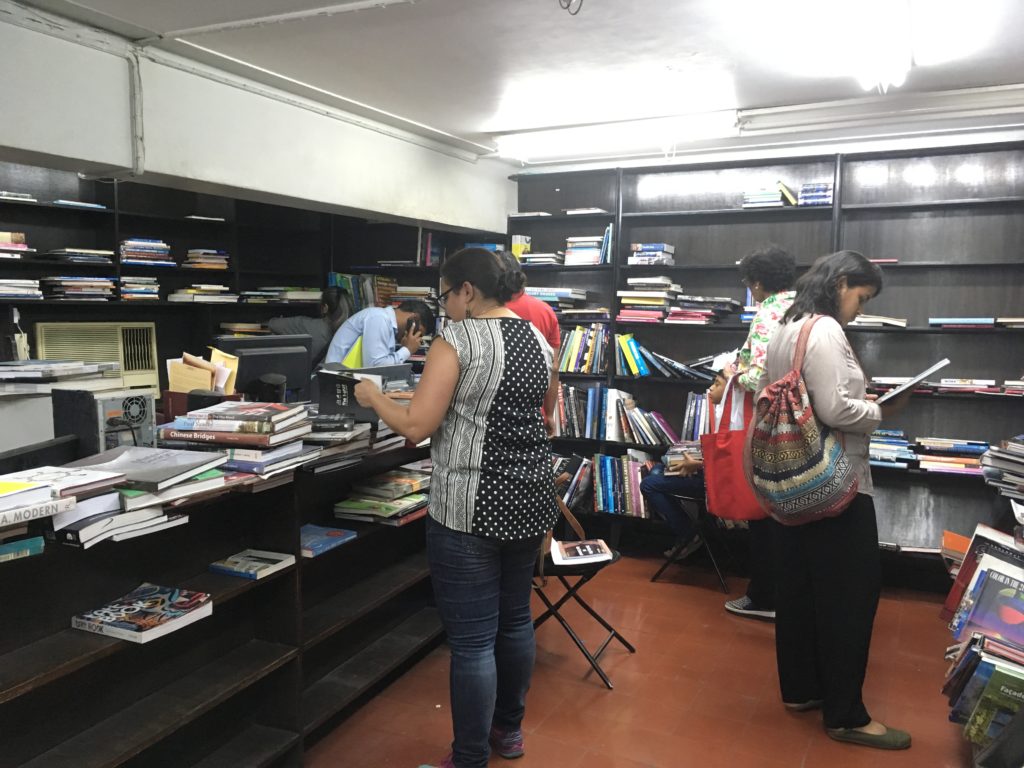 I had finally picked out one book to buy. All I had to do was look at the long line to change my decision. There was no place to move, and it was too stuffy. That didn't hinder the book lovers. Enthusiasts were still scouring for books, some standing in the queue for billing holding piles of books! It was a bookmania, a place were the people who love books would fit right in.
But I am not the one for extreme crowds, and I was profusely sweating. I decided to bid my first and last adieu to Strand.
The wooden shelves, the wooden ladder and the spirit of Mr.Shanbaug……goodbye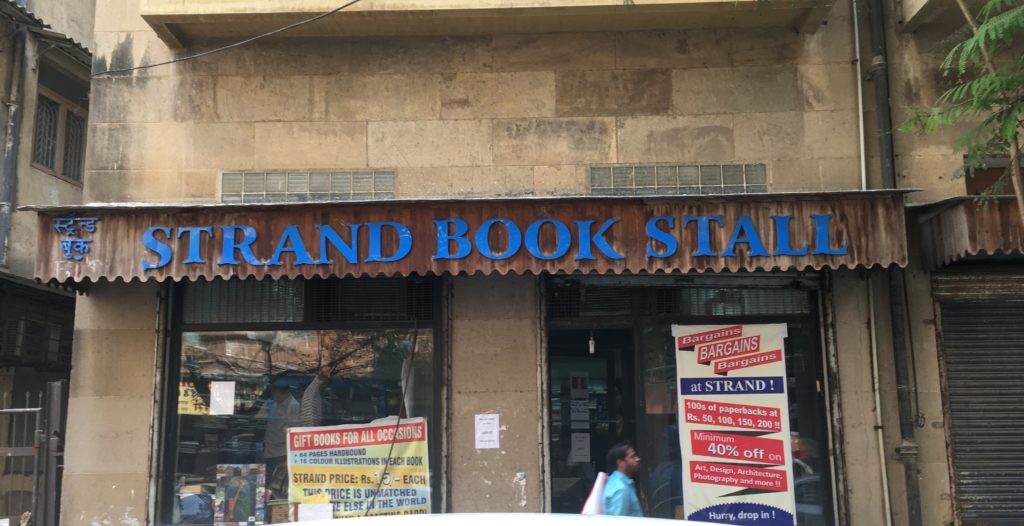 The Story of the Strand Book Shop
I meant to get a first hand account of the story however the staff was stretched to their limits. It was not only hard to find them but also to get them to talk to you. They were trying to manage the overwhelming crowd to the best of their abilities. So I did a bit of research and came up with this.
TN Shanbagh had migrated to Bombay as a student. He was studying in the St. Xavier's College. As most migrants that flocked to this city, he had little money on him. Every month he would save as much as he could and buy one book. This book had to suffice for the month.
In 1948, once when browsing in a book stall selecting his book of the month, a rude shopkeeper told him off. The shopkeeper asked Mr.Shanbaug to buy a book before looking through its pages. Nowadays it is customary for us to look through a book's pages if we are ever at a physical bookstall but this wasn't the case back then.
Hurt by this experience and the shopkeeper's indifference, the young Shanbaug decided to take things in his own hand. He set up a kiosk at the Strand Cinema in Colaba. Here he began selling books with a flat 20% discount. This often saw him making losses. He would let his customers browse the books and spend time looking for the perfect book.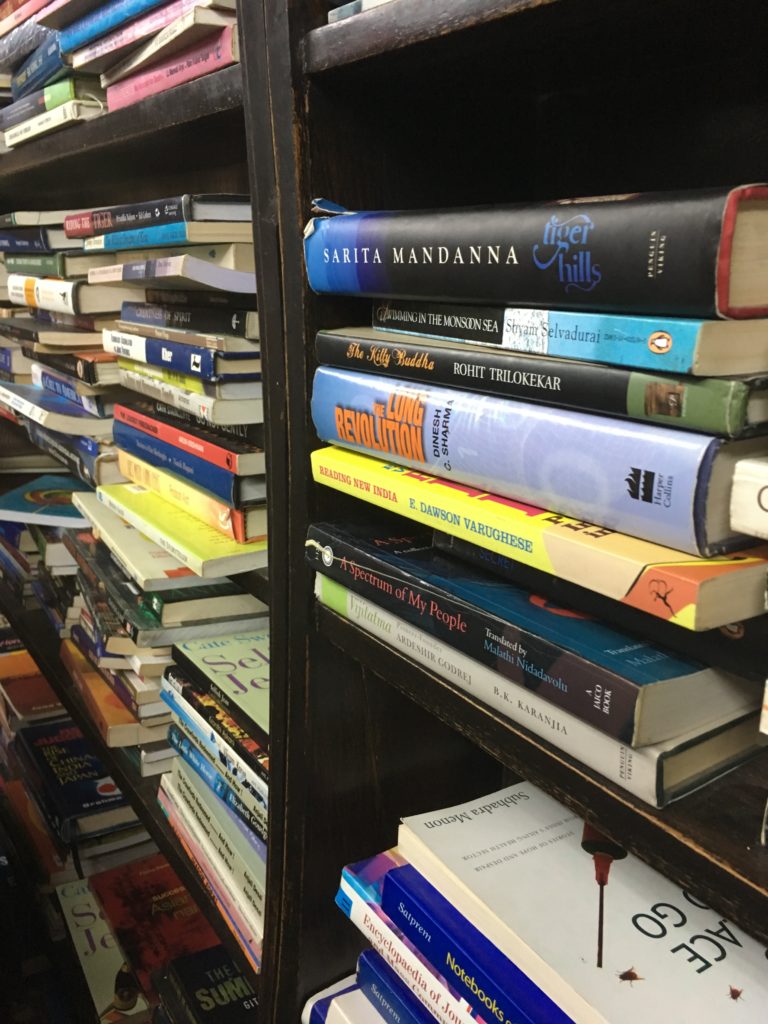 Soon this tiny kiosk was too small for the herds of book lovers who flocked there. Mr Shanbaug moved shop to the present location near the RBI headquarters. The name 'Strand Book Shop' stuck.
It was often said that Mr Shanbaug had read every book he ever sold. He was a master book seller. This master bookseller could pick out the best book for you. His recommendations were perfect, much accurate than Amazon's today.
——————————–
Agatha Christie: Her life and her novels
——————————–
Mr. Shanbaug knew his customers by name. This personal touch and the innate ability to match a book with its owner perfectly, made him famous in the city.
Eminent names like India's first PM Nehru, Manmohan Singh when he was RBI governor, Vikram Sarabhai and APJ Abdul Kalam have all once bought books from Strand. Manmohan Singh, when he was working at RBI, was a regular.
Unfortunately the Strand Book Stores legacy is not enough to keep it going in these Amazonian times.
Strand Book Store will soon be a new name to be added to Mumbai's lost retail legacy. It would join the likes of Rhythm House, the city's famous music store that shut shop a couple of years ago.
——————————–
You think you are a crazy book lover? Think Again: Reading Mania
——————————–
I have a surprise for you. You can have a look at the Free Vintage Car Collection Photo Album here. These cars are stunning. New cars don't measure up to these beauties.
————————————
Did you enjoy reading 'Why Do Dictators Wear Uniforms?' Share it with your friends.