Lost in the City of Dreams: Exploring Bombay
The City of Mumbai has some of the best gems of British colonial architecture, most of them forgotten to time
The City of Dreams, where there is no place for rest and the idea of roads without traffic almost foreign; yet despite the plethora of negative multimedia on Bombay, nobody seems to be able to keep away from it. Thousands of people from across India and abroad come here to chase their 'dreams' not really caring that it is indeed simple to get lost in them.
As crowds come and go like the ocean tides, there are a few monuments scattered around the city that define these people. The South Bombay, the place where all trains lead to can be called a point where Bombay transformed from a merely beautiful group of 7 islands to India's trillion dollar financial capital.
Needless to say, this southern side of the city is scattered with many a monuments that take a visitor back 150 years. Previously at GiGlee Magazine, I have written about these few monuments and have myself been shocked at the layers of history underneath.
In this article let us take a breath and revisit 4 Monuments in the City of Dreams….
Taj Mahal Palace Hotel
The Taj Mahal Palace Hotel is world famous for its hospitality, luxury and opulence. It has played host to some of the biggest names in the world- The Obamas, the Beatles, Angelina Jolie, The King and Queen of Norway, Louis 'Dickie' Mountbatten and possibly the wealthiest of them all- Indian Maharajas.
Many describe the hotel to have been a playground for the Maharajas and that it satisfied their somewhat outlandish demands too. One employee at the Taj Mahal Palace hotel remembers how shocked the staff at the reception and lobby were to see a Maharaja stride in with his pet tiger!
What you don't need an expert to tell you is that there was no expense spared when Jamshedji Tata decided to build this hotel. Everything had to be a specimen of grandeur otherwise it didn't fit in.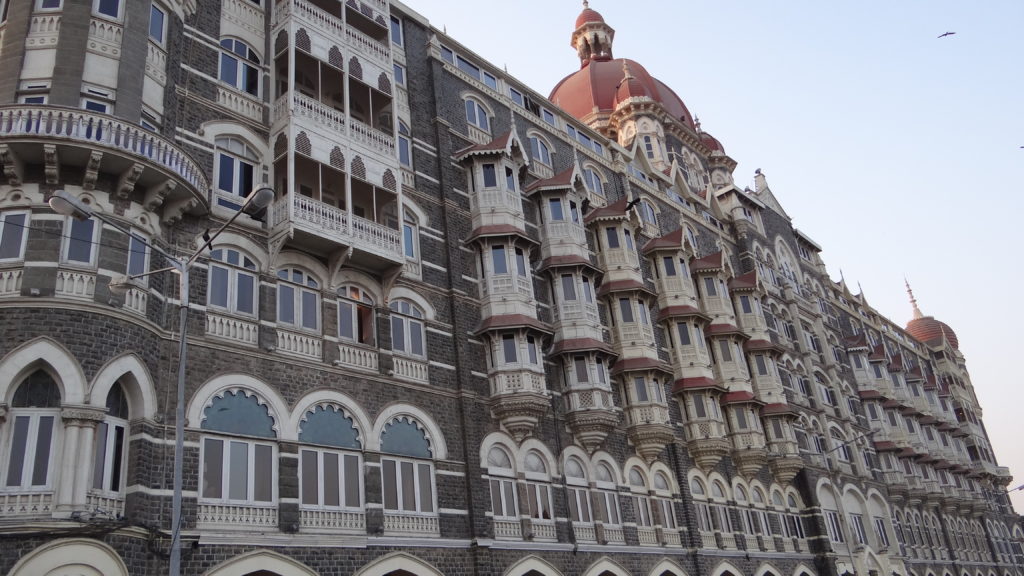 Jamshedji Tata himself set sail to Paris, London, Berlin and Dusseldorf. He took inspiration from the art, craft, decors, technology and style of these places and incorporated it all in his new hotel.
He returned with ideas to install lifts, electricity, butlers and what not. Most skeptics argued that this idea of his would not come up to scratch.
However look at this flagship hotel of the Taj Group of Hotels 115 years on, it is the most prestigious of the lot! Stories like these makes me believe that dreams indeed do come true with a little bit of perseverance of course!
————————————
Lost in the City of Dreams: Exploring Bombay
Read about:
Uncovering the Story Behind the Taj Mahal Palace Hotel
————————————
Esplanade House
Esplanade House tucked behind the Bombay Gymkhana near Azad Maidan is almost neglected by a passerby. What most overlook it as a haunted house, in reality is the Home of the early Tatas.
In 1885, Nusserwanji Tata wanted to make his new home as out-of-this-world as possible. He wanted it to be singled out for its uniqueness, a stark contrast to the mundane homes in Bombay.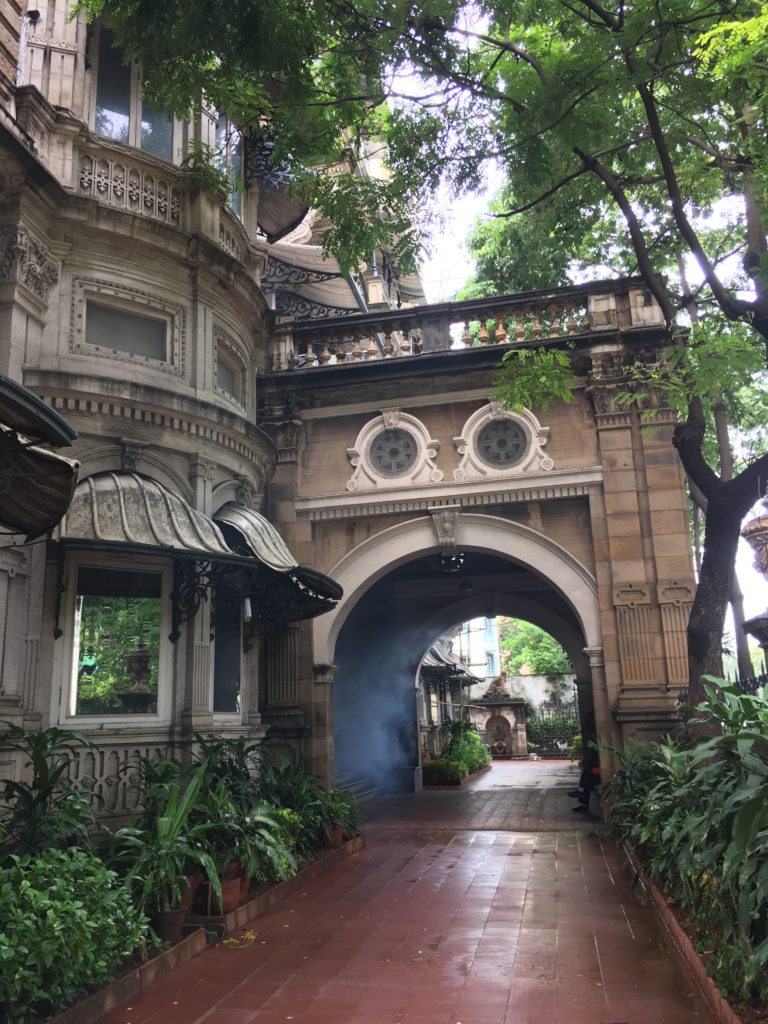 To fulfil his father's wishes Jamshedji appointed the European architects James Morris and David Gostling from Messers Gostling and Morris.
The work began in the same year and within two years the Tatas settled in, calling it Esplanade House. The Tata Archives website has some really rare pictures of this exuberant home. These pictures don't speak of merely a 'home' but something from the movies or like the Sun King's Palace of Versailles in France.
Today this structure is a private property belonging to the Dr Sethna Trust Foundation and houses some business firms.
————————————
Lost in the City of Dreams: Exploring Bombay
Read about:
Stepping into the Esplanade House
————————————-
Rajabai Tower
The Rajabai tower that was once the tallest building in the country at 85meters! It became a part of the city's early skyline because of a project to build a mini-London in Bombay.
The Rajabai Tower is a clock tower much like the Elizabeth Tower with the Big Ben in London. It was designed by Sir George Gilbert Scott, the same man who had built renowned buildings in the UK like the Renaissance hotel outside the King's Cross Station.
Unfortunately after a serious accident here, the Tower is kept locked for visitor's eyes.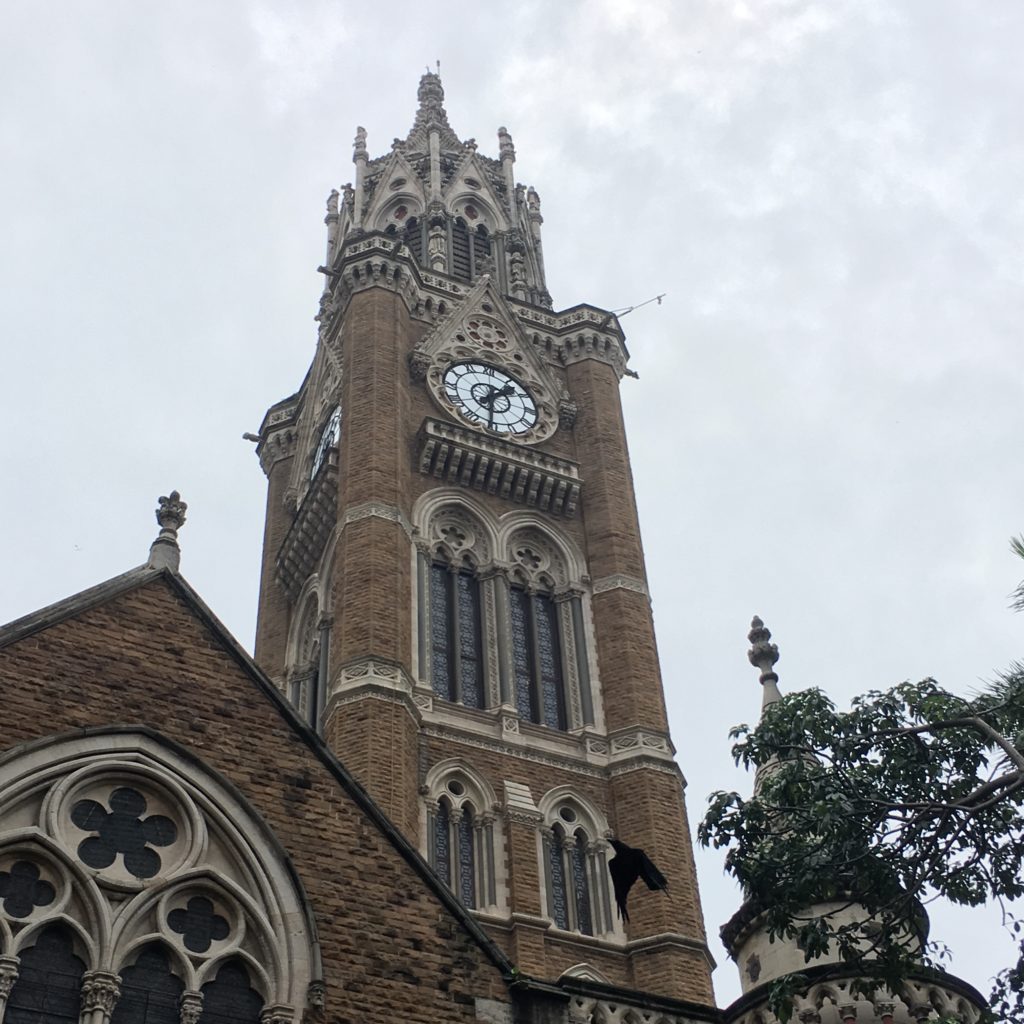 Apparently, the East side of the tower has stained glass windows. These windows are best of their kind in Bombay. The bricks used to build the university's clock tower are called Kurla, these are found locally.
In 1878, the tower was designed to play about 16 tunes including the British Anthem, God Save the Queen. Today this clock strikes a single tune every quarter of an hour. Till May 2015, the tower was under restoration.
Walking midway into the Oval Maidan opposite to the Tower will get you some spectacular pictures!
————————————
Lost in the City of Dreams: Exploring Bombay
Read about:
Uncover the Mystery Behind the Deaths at Rajabai Tower
————————————-
BMC Building
124 years ago, the BMC headquarters would have been an imposing structure. When travelling along the Hornby Road (DN Road) you would have to turn your head to glance at it.
The plot that covers this building is a tricky one. It is triangular in shape and although it looks small, the campus is pretty wide.
Architect Fredrick William Stevens came up with a brilliant area plan. He decided to create a huge structure which would stare any passerby down. It would stand 20ft above its sister building, the Victoria Terminus station.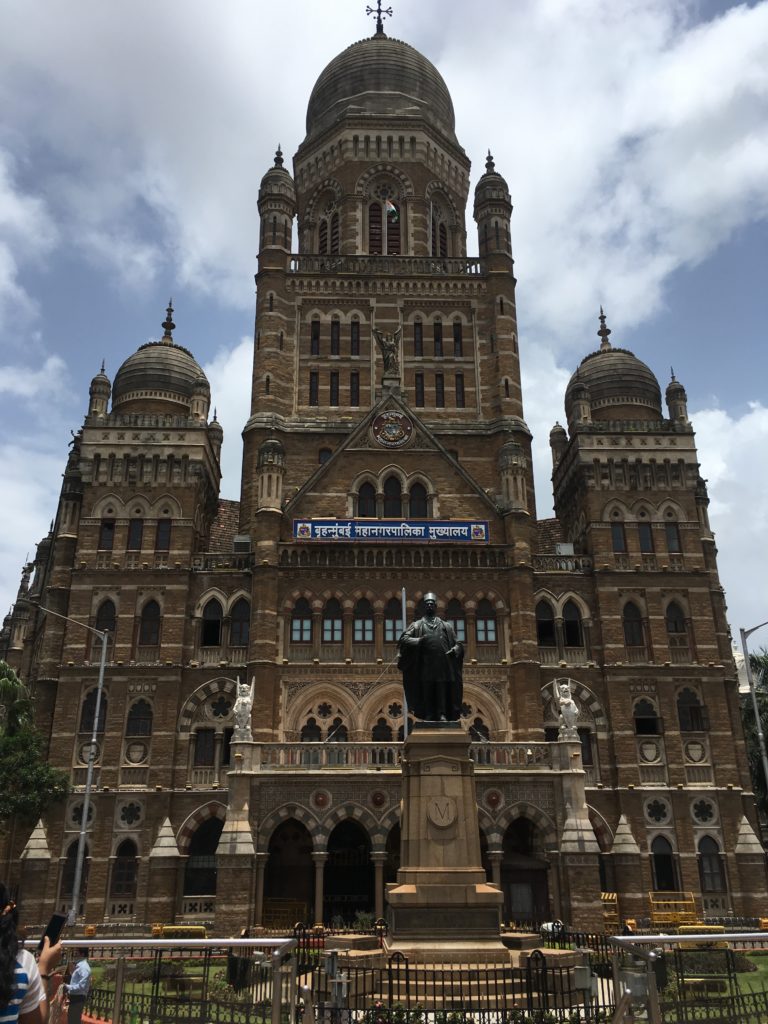 The story of this building starts in 1889. The construction contract was given to Vyankoo Balooji Kalewar. He took it upon himself to efficiently build this masterpiece of a building. He set his men to work and in approximately five years completed the entire construction work. In 1893, the BMC headquarters was open to the officials.
Furthermore, it is believed that the overall budget to build this building was estimated to be Rs. 11,88,082. The contractor Vyankoo Balooji Kalewar managed to finish the construction in Rs. 11,19,969. Saving Rs.68,000 which might not mean a lot in today's terms but held a huge value back then.
Unfortunately since this building is still used by the Municipal Corporation, visitors are not allowed. Sometimes though especially during national holidays this building is opened up for visitors.
————————————
Lost in the City of Dreams: Exploring Bombay
Read about:
————————————-
Magical, isn't it, the City of Dreams? So many stories have come and gone. Do you want to read more such stories on Bombay and how life was back then in this city? Comment 'Yes' below and maybe also suggest a place you'd like to read more about.
If you liked reading 'Lost in the City of Dreams: Exploring Bombay' share it with your friends on Social Media too!