5 Must See Historical Places in Delhi
Delhi spoils you for options on historical sites to visit. Which five should make your list? 
Delhi has seen the play of power. A relentless greed for control and rule. It has seen the first Islamic Rulers that came to this Indian subcontinent and captured it. Delhi has seen Hindu Temples, Islamic Mosques and been witness to many of India's hot political topics. After all, it is where the Indian Parliament sits, the Indian President stays and plenty of tourists flock to see the capital of India.
If you are one such tourist in Delhi, trying to keep an eye out and hand securely over your pockets, whirling through the crowds, wondering wether your local guide is lying to you at least make sure that you visit these Must See Historical Places in Delhi
Of course though, I haven't visited all the multitudes of historical destinations Delhi has to offer but I have in the time that I spend here, visited a few famous ones.
My trip to Delhi went by in a blur of excitement, delirious happiness and in a frenzy with friends knowing it was the best school trip we would ever have, miles away from home.
Luckily for me, my less than average (horrible I mean) camera skills helped me remember the spots we had visited more eager to joke around with each other yet find the time to reflect on what our history textbooks had said.
From all those cherished memories and photographs here are the 5 Must See Historical Places in Delhi
Red Fort
I distinctly remember the Red Fort and its sound and light show. The white marbled Darbar we walked across to get to the other small Mahals where the show would be held specially for us. It was dusk, chilly for a person not used to the cold and it rained!
We sat through this show, most of them slept through it rather but I was intrigued. Even as I write this, I can hear the laughter of Auragazeb as he cursed doom upon Delhi just before breathing his last.
The Red Fort's history though, goes not to Aurangazeb but to his father, whose reign is often referred to as the Golden Age of Indian Architecture. The man who built the Taj Mahal in honour of his favourite wife, Mumtaz Mahal.
During his prime, after murdering all his three brothers in cold blood to ascend the throne, Shah Jahan took the decision to move the Royal court to Delhi from Agra.
Before packing up, he ordered the construction of a fort. Building this mighty Red Fort took the same time it takes for a 20 floored building to be built in India- 8 years and 10 months. And this fort, whose construction was completed in 1648 AD has stood tall for 370 years compared to the 10 years that the same aforementioned 20 floor structure stands for, not mightily though but rather weakly.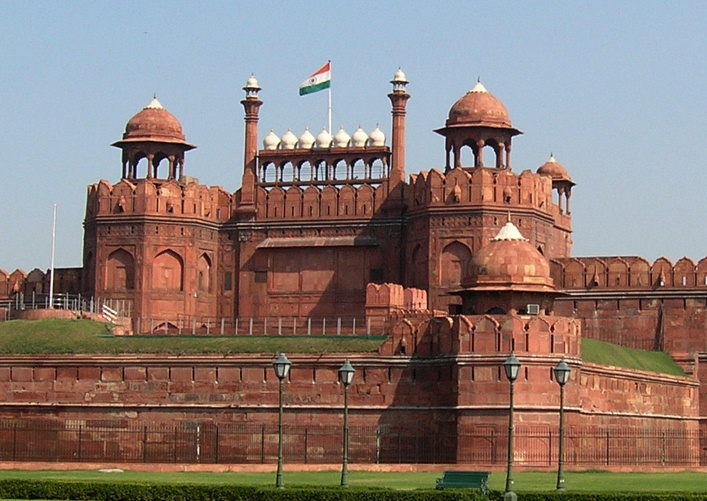 Jesting apart, when Shah Jahan moved here, he called this place Shahjahanabad. The Mughal rulers ruled whatever diminishing empire they had from here until 1857. 1857, the year Indians remember as the First Indian War of Independence and the British remember as the Mutiny.
Bahadur Shah Zafar was the last Mughal to be crowned in 1837 at the Red Fort. After the unsuccessful 1857 Independence War, he fled for refuge and the Red Fort fell to the British. It became an army base because of its shrewd tactical floor plan, the dangerous moat and the location.
The Red Fort is somewhat octagonal in shape. If you briefly do a Google Map search, you'll see many other Mahals and historical destinations around it. They were all once a part of the Fort.
Today this fort is under scrutiny every Independence Day when the Prime Minister gives a speech following the tradition ever since Jawaharlal Nehru declared his Tryst with Destiny at midnight 15th August, 1947.
———————————
If you like reading 'Must See Historical Places in Delhi'
Also catch this story of how Fatehpur Sikri was Cursed
——————————-
Jantar Mantar
Jantar Mantar is the least eye pleasing sight in this list but not to be skipped. The strange structures with weird shapes aren't symbolic of an adventure park but tilt into being a bit more scientific than fun.
The red coloured, plastered structures appear to be modern but are anything but. They are a group of astronomical calculators that represent science in medieval India.
The story goes that Emperor Muhammad Shah wanted to set his record straight, literally. He wanted to account for the precise time that a certain event took place. He wanted to set a formal calendar.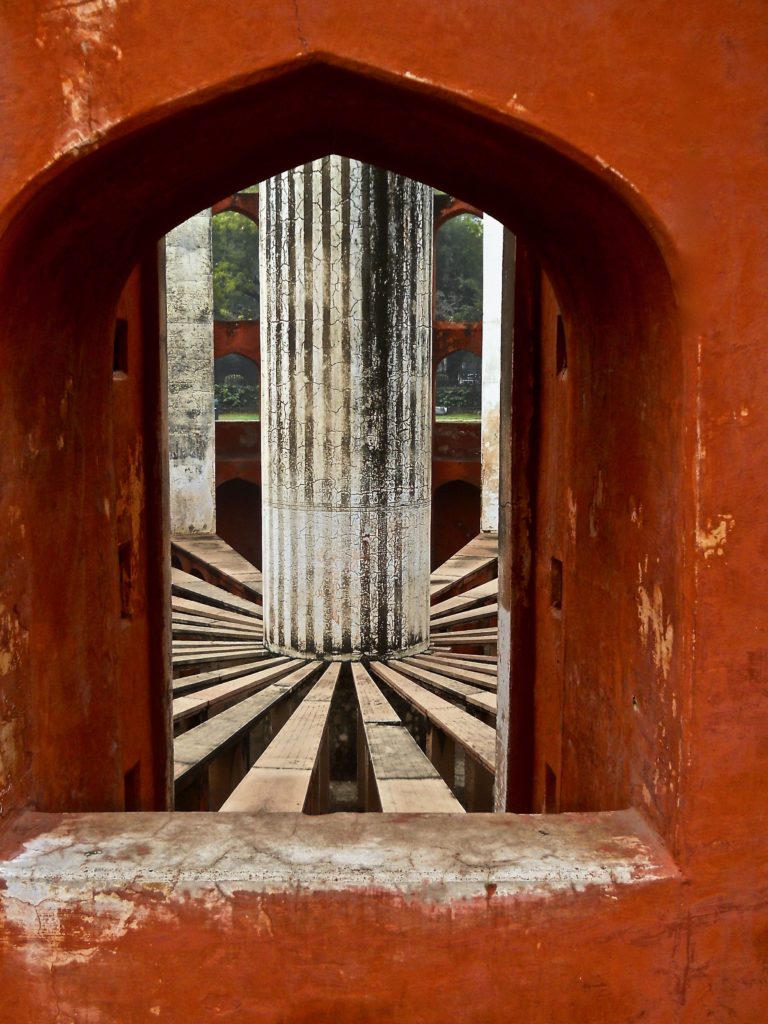 To satisfy his wishes, the Emperor turned to the man he knew was an accomplished astronomer and had the means to invest in creating such a system.
Maharaja Jai Singh II of Jaipur in the 1700s was extremely fascinated by the celestial bodies. In his lifetime, he created not one but five Jantar Mantars. The one in Delhi is the best preserved.
Construction began 1724 and completed in 1730. They used brick, rubble then plastered the structure with lime.
Despite falling in ruin and attempts to restore the lost history, Jantar Mantar remains almost precise lacking by just a few seconds.
The site consists for four different instruments to measure time- Samrat Yantra, the Jai Prakash, Ram Yantra and Misra Yantra.
The Samrat Yantra is precise by 2 seconds.
The science used for the Jai Prakash finds its roots in Ancient greek science of astronomer Berosus in 300 BC.
Th Ram Yantra is designed to calculate the position on any celestial body whereas the Mishra Yantra calculates the various aspects of celestial objects and time.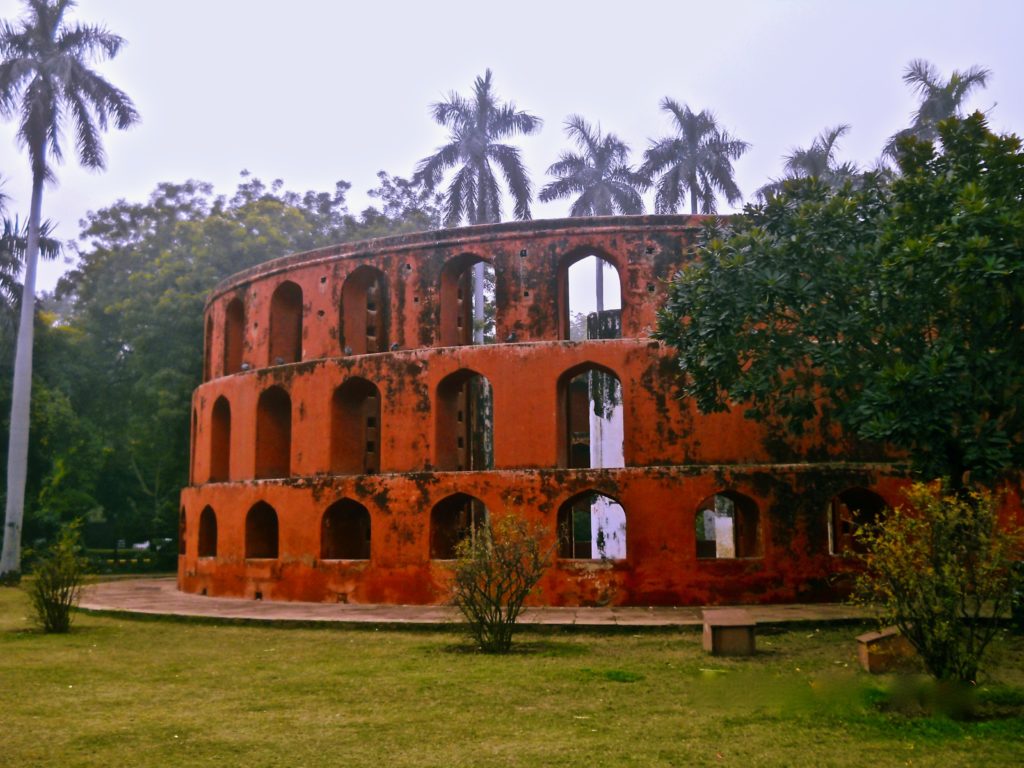 Humayun's Tomb
Humayun's Tomb is a site for sore eyes. Even though it is a mausoleum it strikes the eye as being something rather different. Perhaps it is the blue ceramic tiles that peak out from the top of the structure or the magnificence of the structure itself.
To build this mausoleum, Mirak Mirza Ghiyath was brought in from Persia. The work began in 1560s, four years after the Mughal Emperor died. It was the vision of his first wife to build him a grand resting place.
It was the first time a mausoleum of such a grand size was constructed in India. It is very well known that Humayun's resting place played a major role in influencing the Taj Mahal built by his great-grandson years later.
The famous Paradise Garden or Charbag was constructed for the first time too. The Charbag is symbolic of Paradise as described in the Quran.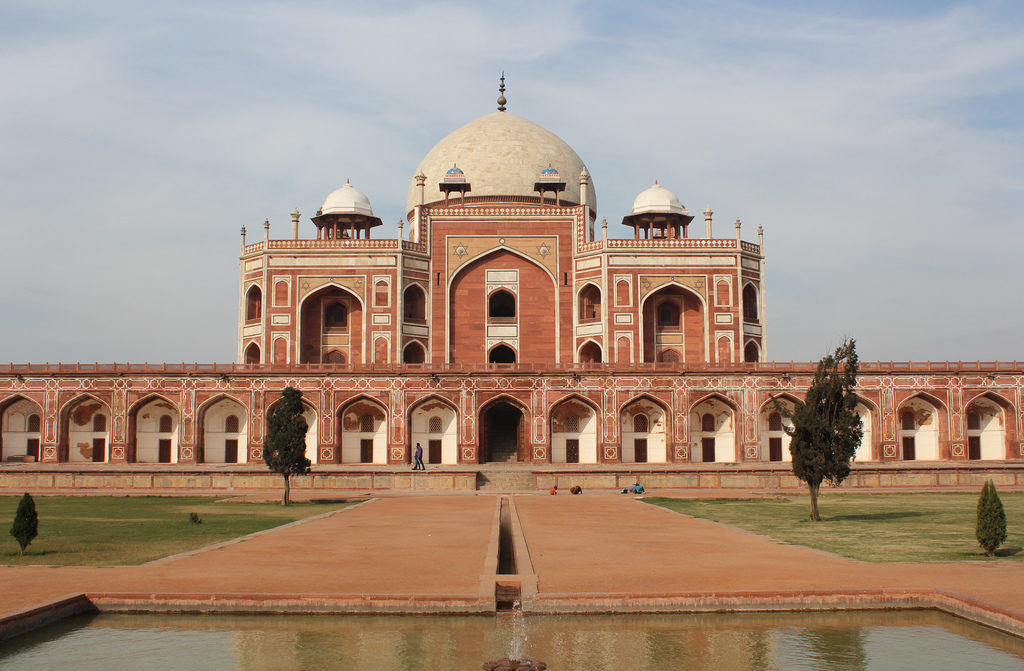 I was awed when I read that this place is called as the Dormitory of the Mughals with 150 Mughal family corpses buried here along with Humayun.
This beautiful structure 42.5 m high double dome dressed in marble. Besides it sit the kiosks or chatris. The domes of two of these kiosks placed immediately beside the dome are clad in ceramic blue.
The charm of the Charbagh with this beautiful red sandstone clad structure make you feel serene and peaceful probably as close to paradise as you can get in the midst of the hustle bustle of Delhi.
#DYK the Qutub Minar is the tallest brick tower in the world! It is also one of the oldest towers too!! #incredibleindia #wanderlust #travelblog www.giglee.in/must-see-historical-places-in-delhi/
Click To Tweet
The Qutub Minar
You cannot go to Delhi and miss this incredible structure. The Qutub Minar is part of a much elaborate Qutub Complex but even if you can't spare the time, make sure you at least see this tall tower.
Researching out the history and architecture of this place lead me to some really interesting facts and stories.
Did you know the Qutub Minar is the tallest brick tower in the world! Moreover it is one of the oldest towers in the world too dating back to the 12th century.
The origins of this tower are a bit controversial. A simple google search proves that. Just like the Taj Mahal, some say it was built by Hindus, some say it was named after an Islamic saint, others say it was named after Qutub Ud Din Aibak and some go as far as to say, it was Iltutmish who contracted this beautiful tower a fact that might question the timeline of this tower in itself.
After contemplation I concur that three Islamic rulers played a hand in constructing this architectural marvel- Qutub Ud Din Aibak, Iltutmish and Firoz Shah Tughlaq.
It was Qutub Ud Din Aibak who established the Slave Dynasty in India. He began constructing in the 1190s but could only lay the basement foundations. His son-in-law who ascended the throne after him carried the torch forward and constructed three floors.
After that for a while the Qutub Minar remained only three floors tall.
About a century later when Firoz Shah Tughlaq stepped on the Delhi throne, he decided to add his own mark. He installed two more floors. The fourth was made in marble and the last in red sandstone and marble.
Just by viewing the mismatched colours, a far cry from the symmetrical Taj Mahal, you can make out the variety of monarchs who had a hand in constructing this marvel.
Over the years Qutub Minar has been struck by lightning, loosing its top floor (luckily restored), survived an earthquake and seen plenty of suicides.
Until 1981, the doors of the Minar remained accessible to the public. However after a stampede and 45 deaths on the 4th of December, 1981, the doors have remained closed along with the incredible views of the city of Delhi that can be seen after climbing the 379 steps up the Minar.
———————————
If you like reading 'Must See Historical Places in Delhi'
You'll find the Astonishing Architectural Facts of the Taj Mahal interesting as well
——————————–
Iron Pillar
Standing in the same Qutub Complex is the Ashoka Pillar or the Iron Pillar of Delhi as it is commonly called is yet another baffling piece of Indian history.
This Iron Pillar stands in the middle of what remains of the Quwwat ul Mosque.
The first fascinating thing about the Iron Pillar is that it is made of Iron and coated with no paint. This means it shouldn't be standing here in the midst of history, a sore thumb of the beautiful Qutub Complex.
However despite the plain appearance you'll see a heard of people crowded around it.
You'll find muggles (humans like you and I), professors, scientists, chemists, metallurgists, archeologists and historians crowded around it.
This Iron Pillar has managed to stun everyone by defying science. It hasn't crumbed to dust in the 1600 years of its existence.
The reason for this has been uncovered, at least that's what Prof. R. Balasubramaniam of IIT, Kanpur believes.
He has come to the conclusion that this Iron Pillar has been covered in 'Misawite'. A compound of iron, oxygen and hydrogen. The iron pillar also has some amount of phosphorus too which prevents rust. Some scientists have challenged this theory.
The history of this pillar is also very intriguing. The inscriptions on this pillar devote it to a Gupta King called Chandra. Who that was, we don't know. Lord Vishu is also talked about. The script used is Brahmi.
What is definitely known is that this pillar was made in Madhya Pradesh by forged welding, a practice which was in use in those times. In this process, the metal is heated at extremely high temperatures and hammered together. This pillar is made up of 98% wrought iron.
For 600 years the Iron Pillar remained in Madhya Pradesh but for some unknown reason was brought to Delhi 1000 years ago and installed at its current place.
Very fascinating, isn't it how such simple iron pillar can confuse us all?
Which other place should I add to Must See Historical Places in Delhi the next time I visit Delhi, a hopefully click better pictures? Comment your suggestions below.
If you loved '5 Must See Historical Places in Delhi' share this article with your friends too.
Here's a go to list of 5 Must See Historical Places in Delhi that you must keep in mid for your trip to India's capital #IncredibleIndia #travelblog #wanderlust www.giglee.in/must-see-historical-places-in-delhi/
Click To Tweet