The Princely States of Hindustan
Land of Tigers -The Rajputs
"India is a place beyond all others" said one of the 19th century's most famous poets and native of India, Rudyard Kipling. From antiquity to present has India been a place of unfathomable wealth, a land of maharajas, nizams, sultans, and warrior princes, a crucible of faith and empire which had often attracted both the commerce and conquest of foreign powers such as the Mughals, Timurids, French, and English. At the heart of this wealth and struggle for political order were the Hindu, Muslim, and Sikh rulers, who descending from age old dynasties were among the most opulent and extravagant rulers in history. They built palaces of heavenly beauty, hosted the grandest of processions such as the Delhi Durbar, and were noted for their fortunes that would make even the gods envious. Thus when one sees a photo or listens to a story about them it is hard not to be struck with awe, yet their legacy today is also one of great controversy, for to secure their power often did they submit to and aid in the foreign occupation of India. For this when India achieved independence in 1947, within a decade did everyone of these centuries old monarchies crumble.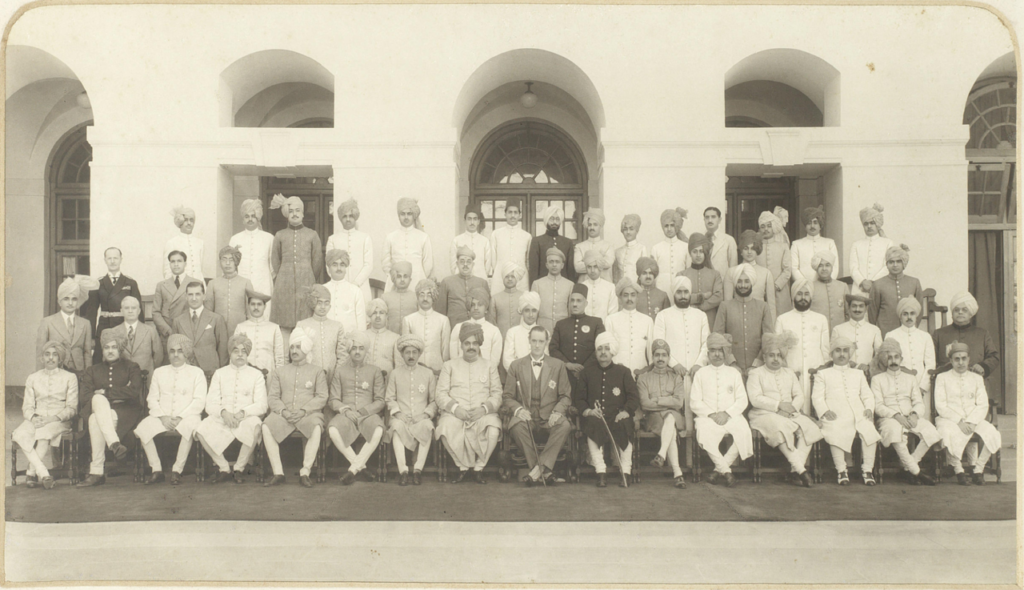 These rulers, fierce in defending their territory resulted in much of India being fragmented throughout the entirety of Indian history. Unification although close under the Mauryas, Mughals, Marathas, and Delhi Sultanate was never fully achieved; a feat only accomplished in the 19th century under the many campaigns of British conquest across the Indian subcontinent. During the period of British rule in India or the Raj, the whole of fragmented India (and beyond: Burma, Sri Lanka, Bengal, and Pakistan) was consolidated into two entities: British administered territories & princely states which although being under the control of Great Britain, were ruled and administered by traditional Indian rulers, thus being of semi-sovereignty and maintaining varying degrees of autonomy. It would be Britain, whose controversial colonial legacy would lay the framework for a united India through their conquests. The role of the princely rulers in aiding them however would result in the termination of their dynasties and incorporation into the Republic of India.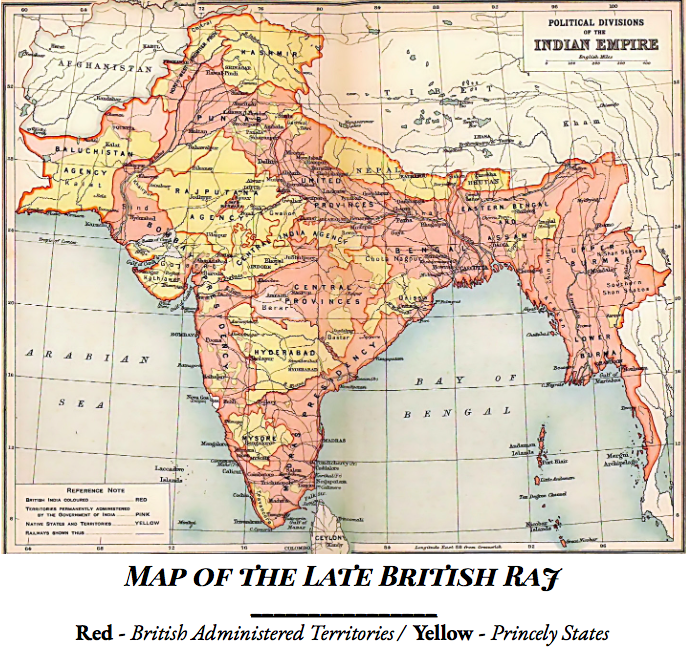 At the time of the British withdrawal in 1947, 565 princely states existed throughout the whole of the British Raj, in addition to several thousands rajputs (warriors), zamindaris (land owning nobles), and other types of Indian nobility. Among the most influential and largest states were Hyderabad, Mysore, Travancore, Jammu & Kashmir, Sikkim, and Indore. With independence in 1947, the era of princely states came to an end with many states being incorporated peaceful into either India or Pakistan while others with force or were contested.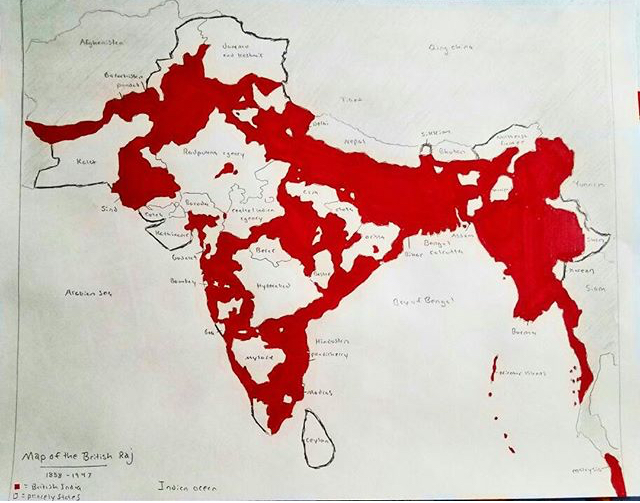 For almost a decade after independence would the last princely states be slowly incorporated. With the British flight, Maharaja Hari Singh, the ruler of Jammu and Kashmir opted to become independent and remain neutral between the dominions of India and Pakistan. A Hindu ruler of a majority muslim population, and with tensions already arising between India and Pakistan saw an uprising breakout against his rule, supported by Pakistan in which he gave up any plans for self rule, signing instead the Instrument of Accession, joining the Dominion of India in exchange for military aid. What followed and has continued since are a series of wars and political disputes over the territory of Jammu & Kashmir which has left relations between the two nations bitter ever since. In the south, Hyderabad whose ruler also opted for independence was invaded and annexed in 1947 by the Indian army after violence broke. Following this the states of Tripura and Manipur opted to join India. The ruler of Junagadh who opted to join Pakistan saw a revolt in the majority Hindu population of his state, which led to a popular vote that saw his plans overturned and Junagadh incorporated into India in 1948.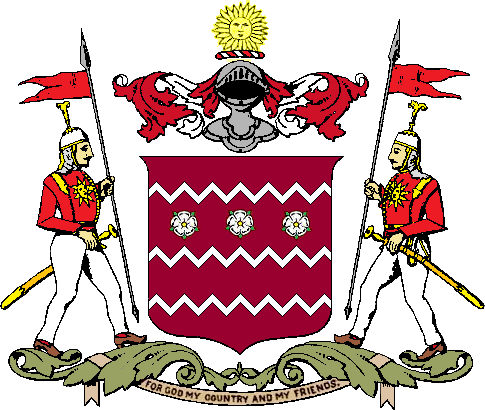 Similarly Kalat who opted for independence was forcibly incorporated into Pakistan in 1955. Following the end of British rule in India, and decolonization across the wider eastern hemisphere, the French who owned minor coastal possessions on the subcontinent agreed to cede them to India. An agreement between France and India in 1948 agreed to an election in France's remaining Indian possessions to choose their own political future. They did and in 1954 French rule in India ended with the secession of Pondicherry. This was followed by a military action by India against Portugal which seized control of the last European colony in India, Goa in 1961. The last princely state to be incorporated into India was the Kingdom of Sikkim. In 1975, allegations of discrimination against Nepali Hindus in Sikkim lead to resentment against the Chogyal ruling dynasty. Their instigation led to Indian Army moving into Gangtok. The army killed the royal guards and surrounded the palace in April 1975, and annexed the nearly 300 year old state; thus marking a final end to the era of princely states and forming the borders of India we know today. As per the terms of accession the princes who opted to join peacefully received government allowances and initially retained their statuses, privileges, and autonomy in internal matters during a transitional period which lasted until 1956. During this time, the former princely states were merged into unions, each of which was headed by a former ruling prince with the title of state governor. In 1956, this was abolished and the India we know today was born.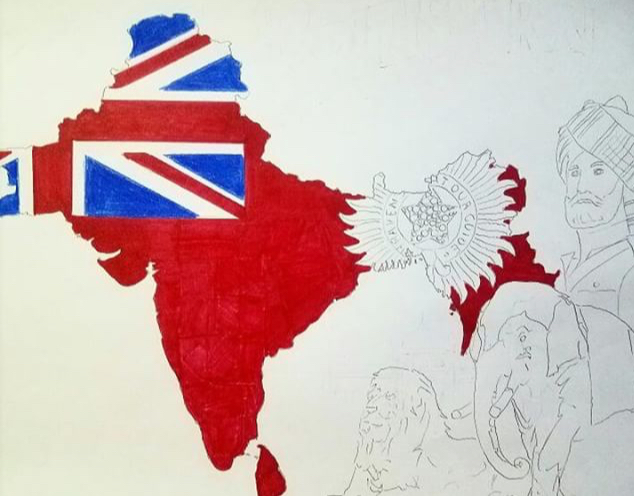 The period of Independence was a bloody one, in which the British divided the Raj into the states of India, Pakistan, Burma, and Bangladesh; a move seen by many as controversial. This was however still a far cry from the divisions India was found in when Europeans first landed on her shores. Yet in addition, the British give the right of self-determination to the Indian people, or more specifically Indian rulers who would ultimately fail to preserve their own power. Their accession and the formation of modern India although largely peaceful, was also controversial, as India a nation born from the struggle against conquest did very much the same to incorporate these final princely states; the effects of which like British rule are still seen to this day.
—————————————-
This article is written by Gerald Kuchyt. He is fascinated by Indian history. Gerald runs an Instagram account called @british.history. Through this account he elaborates stories about the past. It is very fascinating to read the posts he puts up on Instagram. Follow him here.

Read more articles by Gerald Kuchyt-
Book Review: 20,000 Leagues Under the Sea
—————————————-
What did you think about the 'The Princely States of Hindustan?' Share this article with your friends too.
If you want more such articles, subscribe to my mailing list here. I promise I do not spam:)